I'm so excited to announce that my new store is now open. Yarnlove4ewe will offer hand spun yarns, created items (by me) and hand spinning supplies for the beginners.
Drop by often to see what is new and exciting.
Today's offer, just finished, is a 2 ply merino/alpaca yarn.  This feels so soft and would be ideal for a scarf that would drape beautifully.  Like to knit?  I used a 4.5 mm needle to sample the yarn- creates 5 stitches/inch.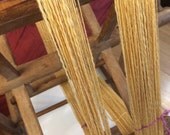 Let me know what you think.
Blessings for a great day!
Doll